Your Names: Andrew and Rebecca Turner
Date of Wedding: 5th August 2019
Photographer: Matt Horan
Style or Theme: Personalised elements (favourite music/lyrics, favourite food (Spanish tapas style),hand crafting name places, tables, welcome boards, selected dusty blue/pink colour schemes)
Your love story
We met in our local gym in Cheltenham where we are both from. We starting dating and within a year we moved to Dubai to teach out there.
The proposal
A total surprise! We had been to the gym that morning, went for a walk up Leckhampton Hill in Cheltenham (one of our favourite places at home). From the top of the hill the words 'Will you marry me?' had been arranged in the rocks. Then down on one knee, Andy presented the ring… which was designed and purchased from Cara in Dubai! Out came champagne, flutes and strawberries that were hidden in a nearby bush! The perfect proposal!
Choosing the wedding dress
Choosing the dress was difficult, especially buying from Dubai meant limited time to shop whilst I was back!  11 shops were visited, finally 'All About Eve' in Chepstow had the beautiful 'Laynie' dress, designed by Rebecca Ingram.  The lovely story behind the store is one of my bridesmaids, Emma, also got her wedding dress from the same shop.
Something old:  A lucky sixpence for my shoes…in fact there were two. One given to me by Andy's Mum, Jo.  The other given to me by Charlotte's mum, Lynne (Charlotte was one of my bridesmaids).
Something new: The dress, 'Laynie' by Rebecca Ingram.
Something blue:  The shoes!
First dance song
My Love – Jess Glynne (remixed from the acoustic to the dance version by the Groom!)
What was your inspiration/theme for the big day?
Not necessarily a theme but there were certain aspects of the day that we wanted to put our own stamp on.  The table names were our favourite lyrics from songs that we enjoy together. Being in Dubai, I needed to make sure that anything homemade could travel well! So I took a brush lettering course and hand wrote the place cards, table names and the 'welcome' canvas.
The flowers, the dresses, flowers and accessories followed a dusty blue and dusty pink colour scheme. This came about through lots of Pinterest research!
The food had a Spanish theme as we love to eat tapas when we go out for dinner.
Why did you choose Bredenbury Court Barns?
We visited 10 venues before we went to see Bredenbury Court Barns outdoor wedding venue. None of them quite ticked all of our boxes.
As soon as we drove into Bredenbury's grounds (and saw the sign for the 'woolies'!) we instantly felt that it would be something special.  Visiting the venue last August, when we saw just the foundations of the venue, we walked around with our hard hats, high viz jackets and holding the folder containing the venue 'vision', we both knew it was a big gamble to book a venue that didn't even have walls yet! But we felt very excited by the venue that it was set to become.
We are so thrilled that we went with our gut feeling and booked Bredenbury. Everything about it was perfect. For us, having the opportunity to hold the wedding ceremony outdoors surrounded by such beautiful views was so special.  Although we wouldn't have minded if it had rained because the Orangery was stunning too and captured so much natural light.  We loved the Oak Barn and felt the huge windows showed off the stunning scenery. The overnight accommodation was also essential for us as we had lots of guests travelling from far away. That was also wonderful.
We would love to thank Sophie for being such a fantastic Event Manager on our wedding day and for making sure that everything ran so smoothly.
Thank you to the Serving Team, especially June who was our guests' favourite!
Also thank you to the lovely Bredenbury Court Barns breakfast ladies [Paula & Ethel] who made so much effort to provide a wonderful breakfast in the kitchen the next morning!  They had placed our bouquets in freshwater and made the kitchen look so beautiful for us.  It really is the personal touches that makes all the difference.
Our wedding ceremony
The 'walking down the aisle' music was 'A Thousand Years' by Christina Perri (violin version).   My maid of honour, Laura, walked down the aisle with me.
Readings – Marry your best friend – Read by Danny Parsons (one of our very good friends who happens to also be Laura's husband).
'Idiosyncrasies' A reading from Good Will Hunting – Read by Jonty Harbinson (One of Andy's closest friends).
Music is very important to us both so all of the music throughout the whole day was chosen by us, from the signing of the register, to the playlists played during canapes, dinner and even in between the band sets!
Your wedding feast – what's on the menu?
Canapes – We had antipasti boards filled with delicious meats, cheeses, peppers, oils and breads (the caterers were able to make most of it on skewers so that it was easy for guests to eat).
Wedding breakfast – Sharing platters of prawn and chorizo paella, parma ham wrapped asparagus, patatas bravas, garlic roasted vegetables and garlic bread.
Dessert- Raspberry frangipanes tart with a bakewell ice cream 
Your favourite moment of the day?
Becky– The couple's photo shoot when we went off on our own with Matt and we had some time together. Then dancing until midnight at the evening party!
Andy:  Seeing Becky walking down the aisle. 
A word of advice for future couples?
Becky:  Try to keep relaxed in the morning before. My bridesmaids (Laura, Charlotte and Emma) and Phil and Sasha (hair and make up ladies) did a fantastic job of keeping me calm! I really enjoyed my morning and quality time with my girls before the wedding began.
Andy: Use the time in between courses to try to see as many guests as you can. Also, keep the bride happy in the run up to the wedding. Happy wife = happy life!
Can you sum up your day in just 3 words?
Bride
"Surreal. Overwhelmingly perfect.
Groom
"Laughs. Grateful. Memories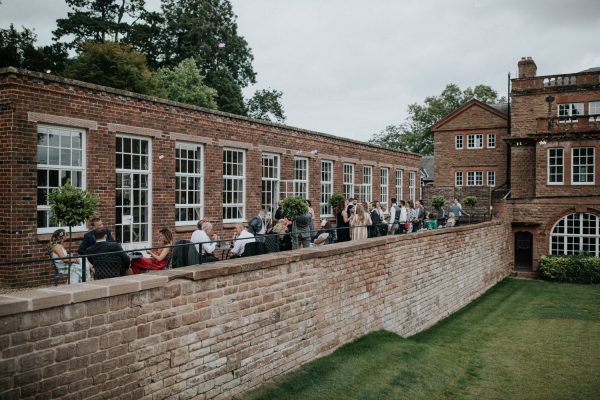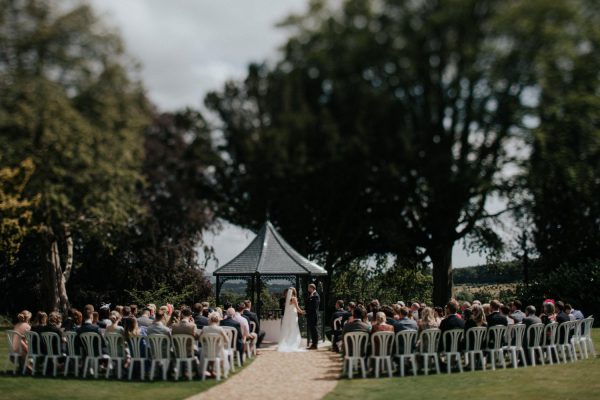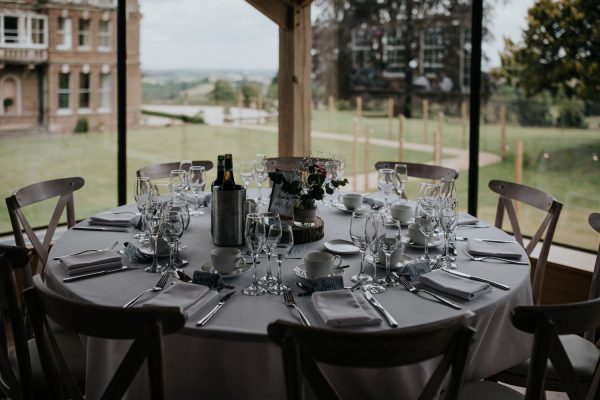 Your dream team suppliers list: