Your Names: Louise and Glen
Date of Wedding: 2nd October 2021
Photographer: Matt Brown
Style or Theme: Relaxed and classic, with plenty of autumn colours
Your love story
We met around 10 years ago on a night out – At the time I was living in Reading but I was visiting my best friend who lived in Newcastle and we just bumped into each other. It was a 5 hour drive between us, so after a year we decided to move in together and the rest is history!
The proposal
Expected in a way, but also a surprise… we'd talked for years of getting married and we knew when and where we wanted to do it, but how the actual proposal happened was a surprise. It was just the two of us at our home in Newcastle (a public proposal would have been my worst nightmare!) and Glen had secretly arranged for my parents to come up from Wales to celebrate after at a Michelin Star restaurant, I had no idea they were just down the road!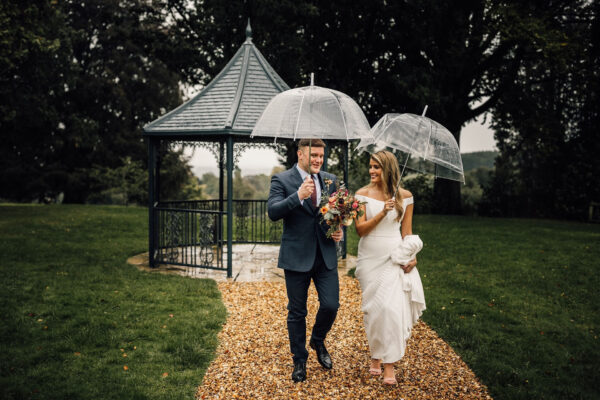 Choosing the wedding dress
I must have tried 30+ dresses on, I've always been indecisive and it was no different when it came to choosing a dress! I must have tried every style as I was open to ideas, and didn't have a particular look in my head at the time. However, I had seen on Suzanne Neville's Instagram page a dress I loved about two years before the wedding, but living in Newcastle there were no bridal stores nearby that stocked her dresses. In the end, I decided I just needed to try it on (even if to just get it out of my head!) so ended up getting it delivered up North  – and I immediately loved it and paid the deposit that day! A week later lockdown happened so I was luckily just in time. My something old was also my something borrowed… I wore my sister's wedding veil as I loved it and it happened to work with my dress too! It was a really lovely touch for the day.
What was your inspiration/theme for the big day?
We really wanted it to be a relaxed, fun wedding for everyone after a difficult few years due to Covid. Also, being in October, we wanted to take advantage of the amazing autumn colours and we were so lucky with our florist (Faye at Rural Floral) who created the most amazing displays and bouquets for us, that exceeded all our expectations and we received so many compliments.
Why did you choose Bredenbury Court Barns?
We loved the rustic style of the barn and thought this fitted our vision of a relaxed wedding day. The Orangery was beautiful, with plenty of room and natural light and had a different style to the rest of the venue, which gave us a feeling that the ceremony and reception were separate without any of the hassle of moving between venues. We really wanted a wedding where if the weather wasn't playing ball, the guests wouldn't get wet moving around during the day, but if it was dry, there were beautiful grounds and views for us and the guests to enjoy outside. The area in general is so picturesque and many of the guests commented on how the drive to the venue was stunning and so different to their usual city lives.
Personally, I also loved the Bridal Booth. This was a really nice extra for the morning for the bridal party, and there was plenty of space for both the bridal party and our fabulous makeup artist and hairdresser to help us get ready.
We also want to thank Bredenbury for handling the situation with Covid so well – our original wedding date was October 2020 but due to lockdown, plans unexpectedly changed and we postponed for a year. Bredenbury were so professional and helpful, and kept us calm during a stressful time. We were very lucky to have such an understanding and accommodating venue, at a time which must have been particularly challenging for them.
Tell us all the details!
As music lovers, we decided to go for a string trio for the ceremony and chose more classic music for walking down the aisle. When the ceremony finished, the string trio played an upbeat, fun song so everyone knew the party was starting! We had two readings by our brother-in-law and a close friend and they did an amazing job… they were both a bit nervous but it was really special for us. Our florist created a floral arch that we got married beneath which we absolutely loved and added loads of colour. Jade's Humbles Bakes created the most amazing cake with three different flavours, it was delicious and many guests took some cake home with them on the evening! We also provided prosecco, gin and beers for the break between the ceremony and the reception which went down very well too, unsurprisingly!
Your wedding feast – what's on the menu?
The tasting day at Bredenbury was brilliant and so useful in deciding what to choose. We went for a salmon starter, with beef for the main course and it was delicious. This was followed by possibly the largest crème brulee we have ever seen! The caterers and staff were brilliant and we couldn't fault them whatsoever, they were so professional and friendly. Due to Covid, there were guests that were unfortunately unable to make it at the last moment and the staff were brilliant in adjusting to the changes so we didn't have to worry.
First Dance Song?
"Only you" by Yazoo. We did have a live band but we decided that we wanted the original song as it is special to us. We were able to choose one song for the band to learn specifically for our wedding and we decided on having "Common People" by Pulp as the last song – we both love it and it got all the guests up dancing to end on a high!
Your favourite moment of the day?
Glen was so nervous for weeks about his speech, but in the end he said he actually really enjoyed it! My favourite moment was our first dance, it was really emotional as it was one thing we have known for years that would be a definite about our wedding, so it was quite surreal when it was actually happening. Plus, we knew after this point we could really relax and enjoy the band with our friends and family, they did a great job.
A word of advice for future couples?
Research your suppliers and go on recommendations; reliable and professional suppliers will make your day run smoothly and remove any unnecessary worry. We had an issue with a supplier who went AWOL 6 months before and we ended up having to change plans 3 weeks before the wedding, it was the only thing that caused us stress in the lead up. My makeup artist (Allison Tye) and hairdresser (Hair Comes the Bride) not only did an amazing job for myself and the bridal party, but went over and beyond to help resolve the issue and showed just how important experienced, reliant and helpful suppliers are.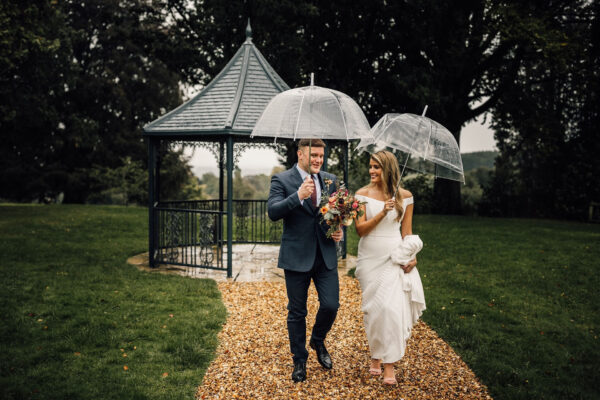 Your dream team suppliers list: