When you're planning your wedding, one of the things you need to decide is what type of breakfast you will be serving your guests. Wedding breakfasts can be a lot of fun, and there are many different options to choose from.
In this blog post, we will discuss the history and meaning of the term "wedding breakfast," as well as some of the most popular menu items that you can serve. We will also provide some tips on how to plan your wedding breakfast so that it is perfect for your big day!
What is a traditional wedding breakfast?
Contrary to what you think, this isn't the breakfast that you have when you wake up on your wedding day. That would make a lot of sense, but that's not what we're referring to. I know… stick with us. Instead, a wedding breakfast is a meal that takes place after your ceremony.
Why is it called a wedding breakfast then?
The term "wedding breakfast" is derived from the old English tradition of breaking the fast. They were traditionally held in the morning in the early 1800s when people would have the ceremony very early on and wouldn't eat beforehand. In those days it really was your breakfast! Although, we're not entirely sure why this term is still used today when the actual meaning has been long forgotten. So next time you're planning on attending a wedding, don't expect to be served bacon and eggs!
What should I wear for a wedding breakfast?
The wedding breakfast normally follows the ceremony and wedding reception so the ladies will be wearing their finest dress and the gents will be suited and booted. Sometimes the bride will have a different wedding dress for the ceremony and the wedding breakfast to make the meal more comfortable – but most brides wear the same wedding dress for the whole wedding day.
What is the difference between a wedding breakfast and wedding reception?
Despite being called a breakfast, most wedding breakfasts can occur at any time throughout the day. Breakfast, in wedding terms, is simply the first meal that follows your wedding ceremony for the newly married bride and groom. The whole wedding party would sit down and celebrate the bride and groom's first meal together and share stories about the couple.
The wedding reception, on the other hand, is the celebration that follows the meal, where the bride and groom share their first dance as a newly married couple.
Do you have to have a wedding breakfast?
Although it is not required, a wedding breakfast is a nice way to start off your reception. It gives everyone a chance to relax and enjoy a sit-down meal before the dancing and partying begin. Plus, it can be a lot of fun to plan!
If you're looking for some inspiration, here's some wedding breakfast food we've served at the beautiful Bredenbury Court Barn wedding venue.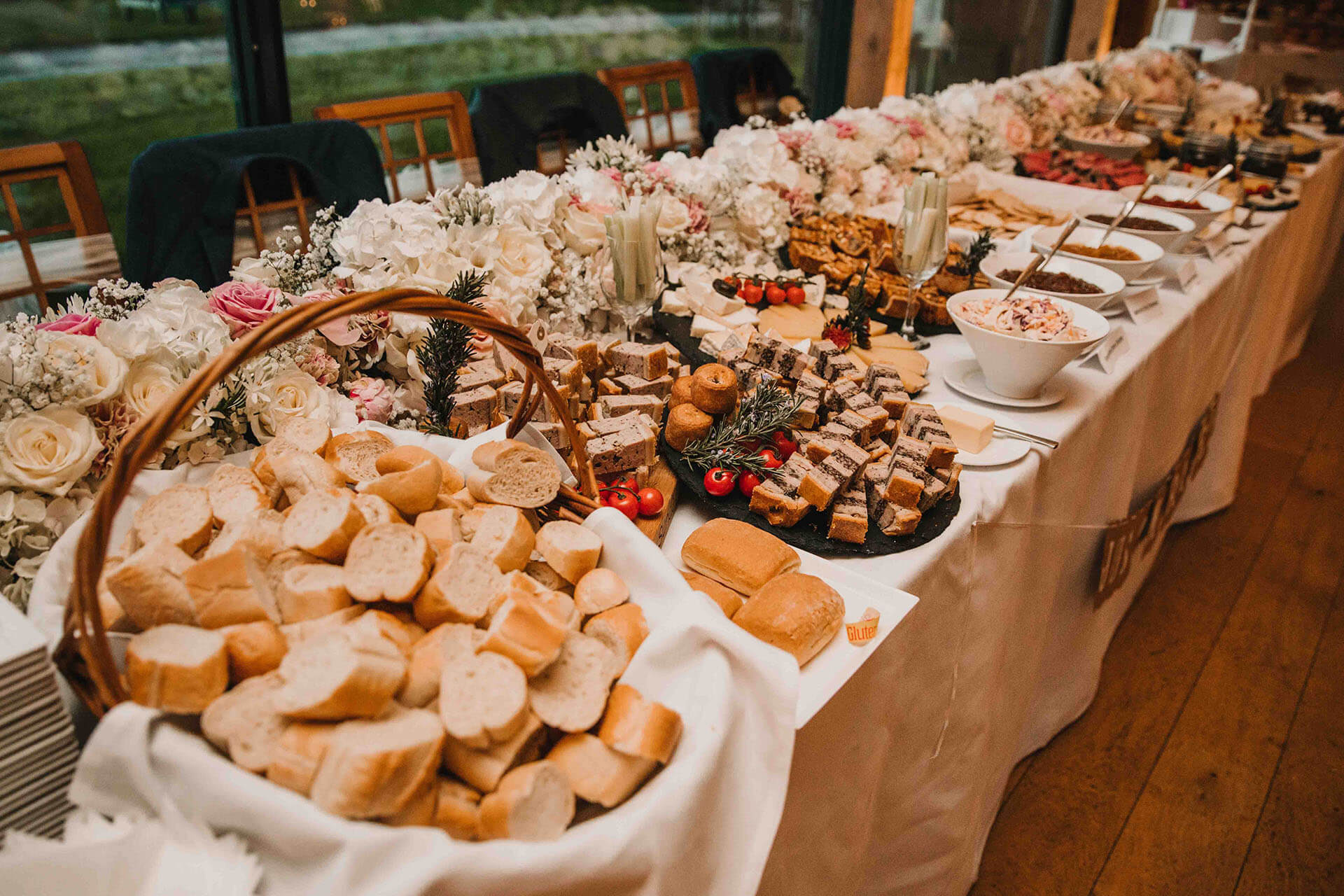 What kind of food is served at a wedding breakfast?
No two wedding breakfasts are the same. They are an opportunity for the bride and groom to get creative and personalise the food to their taste. Normally they are a three-course meal, but this can vary depending on the time of day and how long the reception will be and finished off with lots of champagne and speeches from the wedding party.
That being said, there are some classic wedding breakfast dishes that are always a hit with guests. Some popular menu items include:
Three course sit-down meal
Serve-to-table food buffet
Banquet-style hog roast
Formal afternoon tea
Of course, you can also serve a variety of beverages, including champagne, wine, and mimosas. No matter what you choose to serve, we will make sure that it is something that your guests will enjoy.
What time is the wedding breakfast usually?
On most wedding days, you're likely to have the wedding breakfast at around 4 pm or slightly later – depending on your wedding schedule. Don't worry, we're also wondering why it's called a wedding breakfast if you've probably already had your breakfast before you got to the wedding!
When should guests arrive at a wedding ceremony?
It's customary for guests to arrive about 30 minutes before the start time at most wedding ceremonies as most guests keep themselves occupied and grab a drink from the bar. This gives everyone plenty of time to find a seat and get settled in before the bride makes her grand entrance.
The beautiful thing about weddings at Bredenbury Court Barns is every wedding day is different. So, whether you want a festival style wedding or a more traditional day, we will ensure that the wedding venue is presented to match your dreams and aspirations for your big day.
What is a typical wedding day schedule?
Most weddings at Bredenbury follow a typical schedule, which goes something like this:
Drinks reception: Straight after the ceremony
Wedding breakfast: Two hours after the ceremony
Evening reception: Two hours after the wedding breakfast starts
First dance: 1 hour after the evening reception starts
Of course, this is just a general guideline – your wedding day schedule will be customized to fit your specific needs and wants.
We hope you enjoyed this blog post and found it informative! If you have any questions, please feel free to contact us. And as always, happy planning!